| | |
| --- | --- |
| Vibration Absorber | HOME > Products > Vibration Absorber |
Vibration Absorbers are installed in the suction and discharge lines of air conditioning and refrigeration system for eliminating vibration delivered through system pipes which is transmitted from compressor.
Each vibration absorber is conducted leak test, cleaned, dried and packed in plastic film and paper carton. Each model is passed burst pressure test that burst pressure exceeds the standard.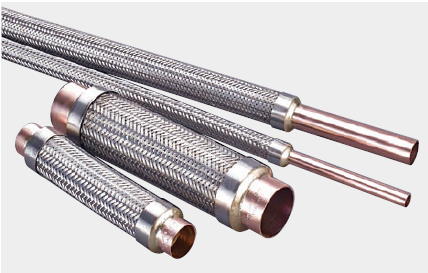 - Fittable for copper tubing from 3/8′ to 4-1/8′ O.D.
- Certified by CE and UL, file No. SA13017
- Available for all HFC, HCFC and CFC refrigerants
- The length of tube and copper ends are adjustable

Model No.

Actual OD of
Copper Tubing
(inch)

Dimensions

Max. Working
Pressure
(psiG)

Burst
Pressure
(psiG)

A[I.D]
(inch)

B [±1/8]
(inch)

C [±1/8]
(inch)

D [±1/4]
(inch)

E [±1/16]
(inch)

NF-1

3/8

3/8

13/16

6-15/16

8-9/16

1/2

500

2500

NF-2

1/2

1/2

7/8

7-1/4

9

1/2

500

2500

NF-3

5/8

5/8

15/16

8

9-7/8

11/16

500

2500

NF-4

3/4

3/4

1-1/4

8-1/16

10-9/16

11/16

500

2500

NF-5

7/8

7/8

1-7/16

9-1/8

12

13/16

500

2500

NF-6

1-1/8

1-1/8

1-13/16

9-7/16

13-1/16

13/16

500

2500

NF-7

1-3/8

1-3/8

2

11-1/2

15-9/16

7/8

500

2500

NF-8

1-5/8

1-5/8

2-1/4

12-3/8

16-7/8

15/16

500

2500

NF-9

2-1/8

2-1/8

2-3/4

15-3/16

20-5/8

15/16

390

1950

NF-10

2-5/8

2-5/8

3-1/8

18-1/16

24-5/16

1-1/4

340

1700

NF-11

3-1/8

3-1/8

3-7/16

20

26-15/16

1-1/2

300

1500

NF-12

3-5/8

3-5/8

4-1/8

24

32-3/16

1-9/16

175

525

NF-13

4-1/8

4-1/8

4-7/16

24

32-15/16

1-9/16

175

525
Model No.

Actual OD of
Copper Tubing
(inch)

Dimensions

Max. Working
Pressure
(psiG)

Burst
Pressure
(psiG)

A (mm)

B [±1/8]
(inch)

C [±1/8]
(inch)

D [±1/4]
(inch)

E [±1/16]
(inch)

I.D

Tolerance

NF-1M

10

10.20

±0.03

13/16

6-15/16

8-9/16

1/2

500

2500

NF-2M

12

12.81

±0.03

7/8

7-1/4

9

1/2

500

2500

NF-3M

16

16.30

±0.03

15/16

8

9-7/8

11/16

500

2500

NF-4M

19

19.19

±0.03

1-1/4

8-1/16

10-9/16

11/16

500

2500

NF-5M

22

22.36

±0.03

1-7/16

9-1/8

12

13/16

500

2500

NF-6M

28

28.75

±0.04

1-13/16

9-7/16

13-1/16

13/16

500

2500

NF-7M

35

35.11

±0.04

2

11-1/2

15-9/16

7/8

500

2500

NF-8M

42

42.40

±0.05

2-1/4

12-3/8

16-7/8

15/16

500

2500

NF-9M

54

54.22

±0.05

2-3/4

15-3/16

20-5/8

15/16

390

1950

NF-10M

66

66.96

±0.05

3-1/8

18-1/16

24-5/16

1-1/4

340

1700

NF-11M

79

79.66

±0.05

3-7/16

20

26-15/16

1-1/2

300

1500

NF-12M

92

92.12

±0.05

4-1/8

24

32-3/16

1-9/16

175

525

NF-13M

105

105.12

±0.05

4-7/16

24

32-15/16

1-9/16

175

525